NEWS UPDATE
Fun at Work
The business of asset design and management takes on new meaning for the office support staff at Opus International Consultants in Wellington. Theme days, practical jokes, games etc are part of the day-to-day life in the office.
The creative driving duo Gillian Kerslake and Jan Baker say that "Dressing up and laughing at ourselves really creates a great mood." Their manager, Chris Newton, says that encouraging people to have fun while they work has always been part of his management philosophy. When the company was going through ownership changes some years ago, he made "proactive praise and having fun" an even greater priority as strategies to cope with the challenge of change and this has just continued. He adds "Staff must feel good about themselves and know they are valued by the company to perform at their best. Mistakes are discussed and learn't from but we make a special point of sharing and celebrating success."
Congratulations to the Opus Team for making life fun at work and maintaining the momentum.
Patricia Cameron-Hill & Shayne Yates
---
OPUS THEME DAYS
Planning
Planning for these events typically starts a few weeks ahead so people can find things to wear from a cheap source (or borrow). We generally set the theme from our imaginations and advise the team to dress all day based around that idea.
To date we have had all sorts of theme days including:
Jungle day,
Colour day,
Mexican day,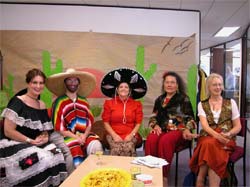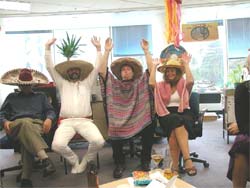 Halloween day,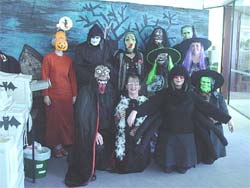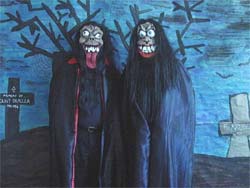 Hawaiian day,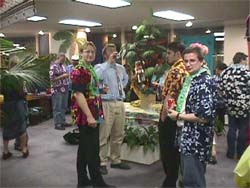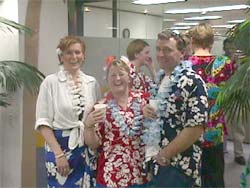 and two Bad Taste days because they were really interesting!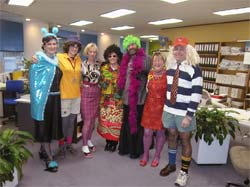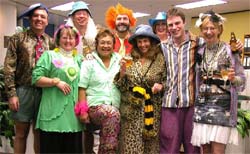 ...and of course an All Blacks Day!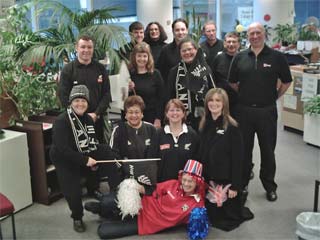 Props
To add to the sense of fun props are added such as toys, painted backdrops using trusty $2 shop paint and limited art talent, pilfering plants from around the floors of our premises, towels and sheets from home, cheap fabric from sales bins etc. These all help set the mood and liven up an otherwise normal office environment. We have made six foot cacti using brown paper wrapped around coat stands for that dessert look. Made a dozen X 10 foot trees painted on brown paper (with leaves) stuck to pillars all around the office for that jungle look. Such cheap props are very easy to create.
Slow to start
When we first suggested such theme days it was not widely appreciated but everyone made an attempt to at least have a hat or something to wear that fitted the theme. As time went on we had several more theme days and the costumes got more outrageous each time. Several people are really over the top with their designs and interpretation, making their own costumes or making the effort to go out and hire costumes.
Other fun ideas
Our fun is not limited to theme days or just dressing. We have an office full of practical jokers and have really embraced "razzing" each other. Heaven forbid you go on holiday around this place. This is open season on decorating your vacant desk. We had one lady go on holiday to Goa (India) recently and she came back to her desk thinly disguised as an India curry kitchen complete with pots, curtains and curry dishes.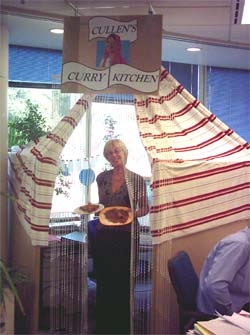 Desks have been known to be wrapped entirely in newspaper, right down to individual stationery items. Quite a surprise for the unsuspecting victim!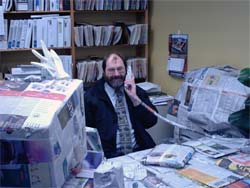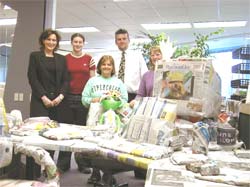 Games
Games have proved to be quite an entertaining part of our office fun - usually accompanied by drinks on a Friday. We have created many board games that take up the entire floor space of the office with mega size dice and employees being the pawns/counters. We've played Mini golf in the office including hitting the ball into then out of the lifts on different floors. We sadly decided against including a water hazard – maybe next time! We had an around the world yacht race right in our building with all manner of nautical items on show. Musical chairs created a riot with people landing on the floor in fits of laughter.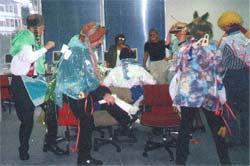 On one occasion we divided the office into teams, armed them with a stapler, cellotape, rubber bands and a box of random items. They were then told to create an outfit that could be tested for durability, colour, texture and of course style. Some of the items in the boxes were, toilet paper rolls, coloured paper, plastic cups and wooden sticks, etc. Off they went and 10 minutes later we had a fashion show like no other.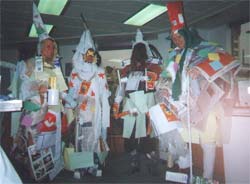 We have had races around the floor in sacks, with an abundance of cheating and bribing the race officials all part of the fun. Irish games with the throwing of polystyrene potatoes at a target, a very competitive game which brings out the sportsperson in the office - well maybe not. They don't fly very well but loads of fun to watch.
The antics of the office have been extremely varied from small jokes to large productions of theme days. We have had competitions such as 'Guess that Baby' which involved team members bringing in a photo of themselves as a child or baby. This created quite a lot of cheating and general detective work for a week or so until we revealed the answers. Another competition in the office was 'Guess that Pet' along the same lines with team members bringing in photos of their favourite pets.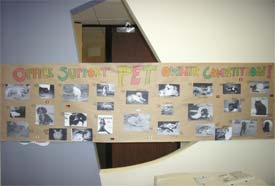 Conclusion
Having fun together has brought out character traits in each other that we may not have known existed. It really helps to understand each other better. It has certainly livened up our workplace and people look forward to the next fun event. (In fact, our themes draw people from other floors in our building to share a laugh with us – or at us!)
Fun adds to our enjoyment of the job and we look forward to coming to work each day.
Written by Gillian Kerslake and Jan Baker for the Office Support Team.
ENQUIRIES WELCOME to The Manager, Chris Newton.